Just over one year since the Dubai Taxi Project, I found myself back in Dubai as a supporter of my partner and her teammates on the Dutch National Beach Ultimate Frisbee Team competing at the World Championships. A far different occasion than trying to record stories with taxi drivers and others who are pursuing some goal in Dubai. But nonetheless, a chance to reconnect with the city that left a lasting impression on me, that I have no shame in saying – I like.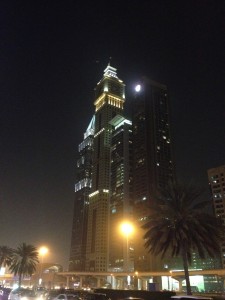 One year later Dubai is as busy and bustling as I left it, with many buildings having been completed that were well underway some months ago. As a fan of urban planning, one very interesting development I got to experience regularly was a new tram line down at the Marina. First they impressed the world with their shiny efficient metro, now they've gotten into the tram game. And while some locals joked with me that you could walk faster than the tram goes and that you'll feel rather lonely as no one uses it, I found the tram to be comfortable and good for getting me to places that the metro can't. But yes it was a bit lonely in there.
The news tells us that the UAE is involved with the joint military operations against ISIS, which sounds heavy yet in Dubai, a very abstract idea. Here it is still what it has long been about- the projects, the work, the business opportunities. Money and development are the priority, later for all that talk about war, poverty, and the rise of the fundamentalist state.
I took far fewer taxi's this year, both because my budget is small and public transport meets my needs when it comes to getting to a beach frisbee tournament on a daily basis. But when I did get into a taxi, it was very much a continuation of the podcast… minus the microphone.
"Best job I ever had was working for the metro. Good salary, steady work, and we built this beautiful line you see over us. It was a joint venture with a Japanese firm and they employed so many people," Mo the driver explains as we drive down the busy Sheik Zayed highway which cuts through the middle of the city. "But now its finished. No more big projects like that. Now I just drive a cab. It's no good." In his almost 10 years in Dubai, Mo, who hails originally from the troubled city of Peshawar, Pakistan, has done a long list of odd jobs. Mostly as a driver; cars, trucks, loading vehicles, you name it. His story is a familiar one. Last year I drove with a gentleman from Kerala who had worked on the Burj Khalifa. Once the building was completed in 2010, he too was out of work and back to the low paying, long hours of driving a taxi.
Back to my man Mo and our conversation about life, he began to talk about things back home in Pakistan. "Some years ago, when money was better, I moved my family out of Peshawar to Islamabad. It was expensive to move but for the good of my children I did it. In Peshawar it is very difficult for girls to go to school, and we want our daughter to attend school, which now she does in the capital. It is sad but our home region is in a terrible state…" Mo's voice trails off as he looks over the long line of traffic that has come to a standstill in front of us.
What followed was a very familiar and pleasant exchange about the evils of corruption and the importance of planning for a country or city. He complimented Dubai, despite his own disillusionment with his job, as a place that is not held back by the perils of corruption or lack of initiative. By the end of the taxi ride we were discussing a better world where people are honest and help one another. Again as I so often did in the past, I paid the fare with a generous tip and we shook hands and exchanged well wishes for family members and the future.
Some might say, there is nothing new here under the sun, we knew there were good people in this city, trying hard to make a better life for their loved ones doing work that is neither easy nor well compensated. For me there doesn't have to be anything new in these stories. I'm happy to hear the voices of those who rarely get a chance to speak, to let them know they are not invisible or alone in wishing and working for a better future. It is brief. It is fleeting. But I still feel it is worth something.