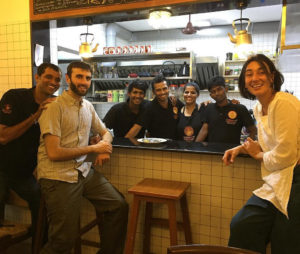 (Episode 488) Amin Sheikh grew up living on the streets of Mumbai, with all the horror and joy that only they can bring to a child with no one to turn to. Those streets might have eaten him alive, and they almost did- until someone came along and changed all that. A few someones in fact, who's actions changed the direction of his life. His personal slogan, "I am because of you", means exactly what it sounds like. If you're reading this, listening to this, sharing in this experience, then he is in many ways – because of you.
We sat in his Mumbai cafe-library, "From Bombay to Barcelona", in a state of euphoria enjoying delicious food and drink. But what really makes everything taste better is getting to sit in the presence of such a passionate and loving human being. Today on the podcast, the story of Amin Sheikh, in his own words.
This podcast is part of the "South of Mumbai" series, stories from India being recorded and produced all month on the road. If you're enjoying, click here to show what its worth to you and help us pay for the planes, trains, autorickshaws, buses, dosas, paneers, lassi's and massala chai's. Seriously, for a small amount you help ensure we have chai to help keep us going.