We moved into a new apartment last month, my partner and I, in a beautiful and lively neighborhood of Amsterdam. Strangely enough on our second day in the house, as we unpacked the massive pile of boxes, a loud discussion burst out in front of our building, which included a good amount of crying by at least one female. When I looked outside to see the source of the noise, two police cars had pulled up and officers slowly put on blue surgical gloves as they tried to calm down the young woman. They seemed in no hurry to enter the building, but when they finally did I could hear their footsteps just above my head. Within minutes they thumped down the stairs and were back outside. More civilians arrived, these men and women would also join the vigil outside. An hour or two went by. A city medical examiner arrived, solemnly greeted the people, and continued up the stairs, again the action going on just above our bedroom. Hours later, in the middle of the night, a large funeral car with a team of two formally dressed individuals is outside. I'm awoken from my brief sleep to the sound of thunderous footsteps and struggling in the narrow Dutch stairwell. I peer through the keyhole just as large objects thump against the door. 3 or 4 men are  struggling with a human body. The final piece of the story, the upstairs neighbor had passed away in his own bed.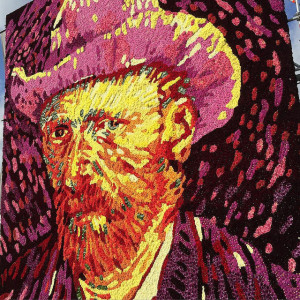 For the next week(s) as family members arrived and I listened to the faint sounds of suffering and commiserating, those famous topics of death and how quickly life can change or even end rattled around in my over active brain. Here's a man who lived alone, older but not old, loved by friends and family, yet isolated in his home in many ways. It is a common reality, in both cities and rural areas. It happens.
Twice a week in this neighborhood they have large garbage night. All month, twice a week, I've watched as pieces of a man's life are painstakingly carried out to the garbage pickup spot. Trash bags. Bits of furniture. Worn carpets. "Unfortunately, my father was a hoarder," one of his children tells me as she passes me in the stairwell carrying more trash bags. I recognize her as the daughter who stood outside all those hours when the discovery was made. She tries to laugh about it, but the sorrow and pain leaks out as she gives up on a smile.
Each night after the trash is put out, things get quiet upstairs, as family members go home. Then another kind of ritual begins, they come by car, scooter, truck, bike and on foot, to sort through the garbage pile. These are the scavengers, professionals, amateurs, random passer-by's that see these things and decide to take them home. I watch from my window as they each show up. They scour the piles, feeling the bags, finding sets of things, occasionally accidentally dropping something that makes an attention grabbing crash. Sometimes there are 4 people surrounding the pile yet no one looks at each other, they focus on the pile and the possibility of finding what is treasure to them. By morning there are mostly only scraps and shards of broken things left. Pieces of what were once a person's life, are sorted and transported all over the city.
It has been one month since the death of the man upstairs. A truck came to take away whatever was deemed of value for the family. His children have worked themselves to exhaustion cleaning the place. There is no more noise upstairs. Soon the landlord will come and paint, renew, whatever is needed to prepare the place for new people. Within a month new human(s) will live their lives upstairs from me. Occasionally they might throw out a large piece of furniture. A scavenger will have it loaded into a van within minutes. Life just goes on.