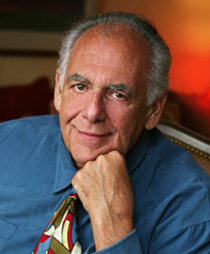 I started listening to Armand Demille sometime around 1996. It was that exciting time of both getting my learners permit (driving) and becoming more aware of the state of the world and humans in general. WBAI was, and still is today, this magical channel right there in the middle of the radio dial where you could hear voices like no where else on the radio dial. Grandpa Al Lewis with his passionate fire for world affairs, Amy Goodman who described the world from the bottom up, Gary Null who tool a militant wholistic approach to health, and there in the middle of it all was this gentle voice who spoke lovingly about each and every caller and would end so many calls by saying "call my office, we can work on this." His show brought simple and beautiful themes like "fear", "happiness", "grief", etc etc. In those days I was still a teenager and kept my love of this program that focused on emotions and psychology- a secret, listening only when I was in the car alone or working in the back lot at my first job at the garden center. Armand would speak from the heart and encourage everyone around him to find out what their heart was saying as well. He also brought kind and interesting guests, and of course unique music from around the world. He was a true lover of humanity and seemed impossibly busy with speaking with them for most of his life.
From the age of 16 to now almost 36, I have taken Armand and the Positive Mind with me to every corner of the world. From my late teens and university life in New Jersey and New York, to a new life in Lisbon and then Amsterdam, to the war zone of Afghanistan, the post-war zone of Kosovo, to the vast emptyness of Mongolia and beyond, Armand has been with me every step of the way.
In my mind he had no age. His voice and his ideas where as strong today as they were back when I first discovered him. His program and wisdom were as reliable as night turning to day. It never occurred to me that we could lose this fantastic international treasure.
As so it was that I learned of Armand's passing this week at 75 years of age. Just like that, from one day to the next, this voice in my life that has had so much influence, ends. Of course there are the recordings, which I will treasure for as long as I live, and the ideas and values, which perhaps continue in each one of us, his faithful listeners. But beyond on that, we- as a world- still lose someone very special who made a real difference in millions of lives around the world. Thank you Armand. I will continue to take your wisdom with me wherever I go and will pass on your contagious spirit of possibility and positivity, any chance I get.