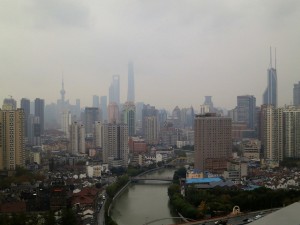 The Dubai to Shanghai Emirates flight is jam packed with people eager to get to the people's republic. I'm in the aisle seat with two jovial middle aged men to my right. They're joking about the food or the flight attendant who always ignores their requests for food or drink, they speak with different accents yet they seem to know each other fairly well. The jokes are funny and kind hearted- it is going to be a nice flight.
Along the way more jokes mixed with pearls of wisdom about travel, airplanes, doing business in China as well as life in Zambia. These two gentlemen live in Zambia. One is a native son of Zambia with a fantastic sense of humor and a kindness you rarely see on a long haul flight. The other, to my surprise, is Portuguese, working the last decade or so for a Portuguese construction company based in Zambia. Their destination, a construction vehicle exposition in Shanghai. Because as you should already know and these two gentlemen remind me, down in Africa, it is the Chinese that go for every contract and manufacture some of the most budget friendly vehicles for those big infrastructure projects.
"You never know what you're going to get; sometimes the projects are done well and you can see it when roads or houses last over the years. Other times the projects are of poor quality; roads and structures are falling apart within only a few years… you have to be careful because choosing the lowest bidder is not always the best thing for the country in the long term."
Again, themes we hear about in the press and from first hand observers over the past decade. The conversation carries on and each man shares experiences dealing with Chinese development corporations and machinery companies; the good sides, the bad sides, the in between details. They're both pleased to be coming to Shanghai, a place that is tens of thousands of miles away from home but that plays a very significant role it what happens there in the coming years.
As we made our approach to Pudong Airport, the interesting conversation carried on, moving from Portuguese politics to Zambian politics and the intricacies of each. Pulling into the gate, cards are exchanged, handshakes, best wishes, and off we go to our respective missions in China.  I make a mental note, get over to Zambia, I'd like to see that lovely country.