It is a busy Wednesday evening near the Burj Al Arab, Dubai's most recognized architectural symbol, and there is a line of taxis waiting for passengers. I position myself just out of view of the drivers and watch as people stream out of the shopping mall and into each taxi.  Some drivers argue as they wait, something about a sloppy parking job. One guy gets out of the taxi and is waving his arms around in anger.  He is speaking Urdu I think, with occasional English expressions mixed in. At one point I distinctly hear the gentleman shout towards another driver "go back to Pakistan!"  Ironically I'm almost certain they are both Pakistani. No matter, anger is anger. An Indian gentleman in an official looking uniform comes over with an angry look on his face, he puts himself between the car and the angry man and orders the driver back into his car. He seems to scold them both. Suddenly the argument is over. Back in his vehicle, the frustrated driver revs the engine and dramatically pulls forward into the first position for the next possible pickup.  I stay out of site, determined not to get into a cab with an angry driver.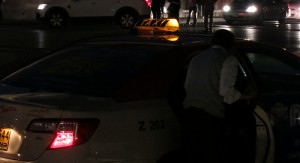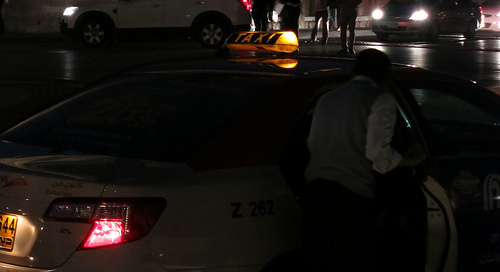 When I do finally see a cab that seems to eminate positive energy, I hop in and find myself seated next to Dev from Bangladesh.  He and I are immediately interrupted by my phone, as a local photographer is calling to say he has been delayed by a helicopter crash. From my side of the phone I repeat his words in astonishment – "A Helicopter crashed?" – Dev turns his head towards me in a panic, "Sir, where?" The call gets disconnected and I tell him the little information that I know; there was a crash nearby. He politely asks me to call my friend back and ask for more info, there is an air of "concerned driver" and "curious citizen" in his voice. I tell Dev I haven't got any credit left on my phone to call anyone,  like a reflex he pulls out his phone and hands it to me, "please sir, feel free, you are my guest." I'm stunned by his kindness and his passion to know about a helicopter crash somewhere on one of the exclusive closed-to-the-pubic islands. I make the call and even as I try to get more facts from my friend, Dev is whispering more questions to me, "casualties sir, any cusualties?" Based on the suffering tone in his voice, you would think he had family on the helicopter. A minute later I hung up the phone and explained that there isn't much more information at this time.  Dev looked forward at the bumper to bumper traffic with a defeated look on his face, "not much chance to survive that type of crash."
After a brief few minutes of silence, he asks me about my work. I explain my interest in people working in Dubai, especially taxi drivers. He seems surprised and pleased to hear this, he quickly lays out his main point that he would like the world to know:
"As you have surely seen, Dubai is a city that is very developed and there is so much to do, so much entertainment. It can be a very interesting place and a place where you can forget or enjoy some distraction in a cinema or some musical performance. But we taxi drivers, we work everyday of the week, 12 hours per day. We are tired, often in a bad mood, or else we are confronted with a customer who is in a bad mood and takes it out on us. What we really need is one day off per week. Everyone should have a right to that. One day of per week. That is my one wish I would tell the government and the company, one day off would benefit everyone involved."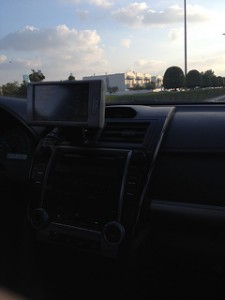 His statement was clear and simple, words that sounded like he had been crafting them over the past few years behind the wheel of this taxi.  I suggested other possible ways to improve the spirit of taxi drivers but he insisted nothing else was important. "We have our salaries, or commission, and for us it is fine and it is enough to send home to our people. But it shouldn't be so miserable all the time. We could enjoy one day to relax, recharge, and come back in good spirits. We would also be helping the economy by spending some money on entertainment. But the most important thing would be to improve morale. Because as you might have noticed, it is getting worse among drivers."
His point about morale rang especially true based on my almost 50 taxi rides over the course of 3 weeks. Though many drivers were modest and refused to complain, once you get them talking you hear about the pressure they are dealing with. It is not hard to notice a city wide depression slowly taking hold of these hard working individuals who take thousands of people from point A to point B everyday.  Some passengers might feel like they are the victims of bad drivers who make mistakes or are dishonest in some way, but further research can easily reveal that this is a side effect of a high stress work arrangement.  Yet right here in this 4 door sedan, a man named Dev from Bangladesh is laying out a clear plan for how to address this issue. It was the most constructive conversation about the job I had ever experienced.
As we make our way towards Jumeirah Beach Residence, Dev moves on to talking about marriage and the pains of being away from the person you love most in this world. He explained how he had married for love with a woman he met at university (bachelors degree in economics) and not by family arrangement, going against the tradition of his culture. He was proud of his decisions, including not having had a traditional wedding with hundreds of guests. "My wife and I agreed that we would not be wasting money on some huge traditional wedding, we wanted instead to use this to invest in a house and our future. This is seen as going against tradition but we didn't care. Some traditions need changing," he laughed at his own words.
Within 2 blocks of my destination traffic comes to a halt. Dev squints into the sea of tail lights and offers me advice, "You would have better luck walking from here, you'll get there faster and you're young, two blocks walking is good for your health." We both laugh at the suggestion and I count out the money I owe him plus a little extra. Before I'm even done figuring out the money he surprises me by extending a hand to shake mine, "Can I tell you sir, it is a real pleasure to have had this time with you. Something really unexpected and enjoyable. Thank you so much and I'm going to pray for you sir." I shake his hand and tell him he has taught me many things on this trip. Caught up in the moment, despite not being religious, I tell him I will pray for him and his family as well; that they have good health and a wonderful future together.  As I open the door, another customer is ready to get in. I pause and tell her, "Take care of him, he's a great person!"