He's young and soft spoken , and asks where I am from. When I mention Portugal, he smiles "We are neighbors. I am from Morocco." We speak a bit about that country and its more famous cities and he soon corrects himself, "actually I am not Moroccan, I am Saharan. But it is a bad situation there, so I left many years ago."
We're heading south on Dubai's busiest 14 lane artery known as Sheik Zayed Road. My driver is Jam, who has been driving taxi's in Dubai for less than 6 months. He tells me this right from the start, so I tell him everything I know about getting to my destination. Together we agree on which is the best route to take.  As we drive we pass many of Dubai's most famous sky scrapers and countless shops with big brand names on them.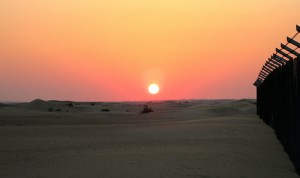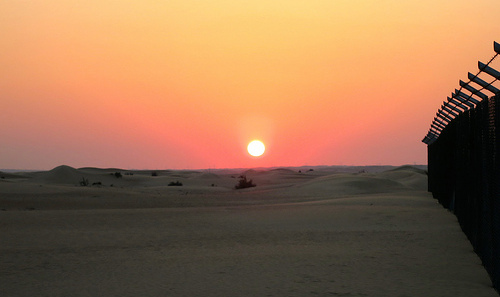 "This is a very good place to live and the job is decent. I've worked all over North Africa and the Middle East, this is the best place for me."  As he talks on, Jam stares forward at the road ahead, "I will bring my wife here as soon as possible. She is finishing her university studies in the field of tourism, there should be a job here for her."
This is a rare plan from a Dubai taxi driver. Most are eager to tell my how soon they will stop the job or how they are waiting patiently for when its finally time to go home.  With visas that make it hard to stay once the job is over, and a citizenship policy that leaves little hope for ever becoming a local, hardly anyone in their situation talks about making a life in Dubai for the long term.  Even fewer talk about bringing their wives over from their home country. But then again, few other drivers come from a place that isn't officially a country.
"I never went to University. The nearest one was 10 hours away by car. You would have to live there and my family didn't have money for that." — You've learned plenty from the school of life!- I say to him with a smile. He smiles back but doesn't not seem to have understood or agreed with my words. When I suggest that it might be difficult to get permission to have his wife with him he shrugs off any doubts.  In his eyes it is the right place to be and with her qualifications his wife will easily get a visa.
Jam is only the second Western Saharan I have ever met in my life, so I jump at the chance to ask him more about his homeland. Specifically about the POLISARIO people, a movement that has been working to end the Moroccan occupation since the 1970's. "They are our brothers," he assures me, and repeats this statement several times. "I hope one day my home will be a country, perhaps like this one. With its own Universities and Institutions, a place where we can live and work and have our families. That is my hope."  Again he repeats those last few words, but his tone changes to indicate some doubt, "that is my hope."
We drive on for a few minutes in silence before the conversation comes back to how complicated the roads in new areas of Dubai can be. As we negotiate our route towards my destination near Jebel Ali, I'm still thinking about Jam's situation compared to any other drivers. No country to go home to. A past marred by violence and struggle. To him Dubai is more than just a stop along the route of life, it is more than a source of money, to him this city could be the stable home and the fresh start he has long been searching for.