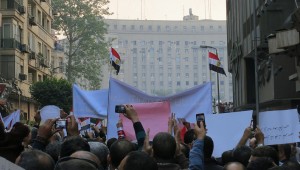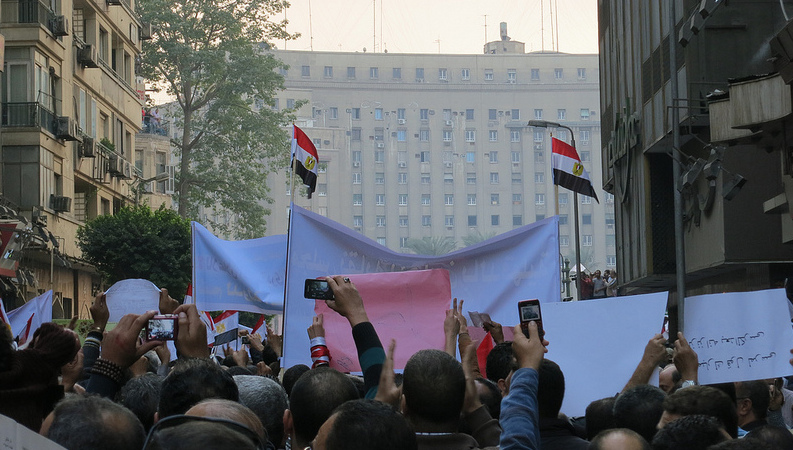 One year ago this week it was Chris and I running around the streets of Cairo, getting a crash course in revolution from some of the most passionate, charming, and welcoming people one could ever have the good fortune of meeting in this life. From our home base in western feeling Zamalek, to our front office between the hallowed walls of Café Riche in Downtown, everyday we went to school with pen, paper, and microphone. Incredibly, the very three weeks that we were in town coincided with the reawakening of a movement, to finish what they had started back in 2011.  For two outsiders eager to learn at any hour of the day It was nerve wracking, it was confusing, it was beautiful.
One year later the loud voices of observers from all walks of life and all corners of the world would shout me down and say it was and has been a terrible year for Egypt, and we were witnessing just another chapter in a story filled with tragedy.  While those voices might be louder and considered more credible than my own, I would still say to them – what I experienced in Egypt in the autumn of 2012 was a thing of tremendous beauty.  I saw old and young walking arm in arm through the streets without fear, singing, chanting, smiling and inviting their neighbors to join them.  I saw families camped out in the middle of this world famous square, sharing food, telling stories, and exchanging warm greetings. Every time we turned a corner we were greeted as welcomed visitors, people eager to show us and have us relay to the world – this is Egypt, we are glad you are here.
When I think back on those wonderful weeks in Egypt, among so many great interviews worth listening to again and again, my favorite has to be Fouad and the boys, three friends sitting with us at an outdoor café in Downtown Cairo. Telling the story of what has been happening and Egypt and what it all means to them personally. Putting things in perspective, especially in that big-picture perspective of life, death, and everything in between.
A lot has changed since those fateful days of November in Egypt.  Lots more lives have been lost and terrible crimes have been committed.  But anytime I see one of those simple conclusions in the press, or hear that blowhard at the bar spout off about how Egypt has jumped off the deep end, I remember what I experienced and the lessons I learned from some very special observers that live the reality everyday, including at this very moment. And I take solace in the fact that there is always more to this story, it isn't all just one way, and oh the fantastic people you could meet if you were there right now.