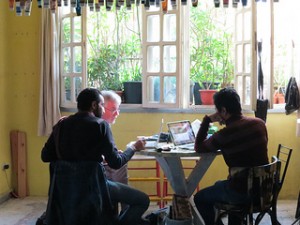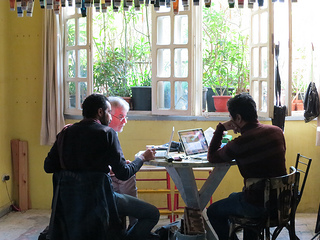 We're at the nearby art gallery speaking with a talented and kind-hearted painter who is struggling to fully explain his project in English.  After a few minutes of explanation and some translation he turns to us and says "Why don't you come to Nasser City tomorrow, my friend Khaled holds an open studio every Friday and you'll meet great artists who are good at explaining things in several languages."
Less than 24 hours and a memorable taxi ride later, we're walking into a first floor apartment that looks less like a house and more like a secret hide out for talented and funny artists.  The walls are covered in art, which includes plentiful collage material pasted on the doors and walls in seemingly every corner of the room. The ceiling is cleverly lined with old acrylic paint tubes that look more like festive lighting. A look into the bathroom reveals a giant white plaster hippopotamus covered in magazine clippings.  At the little round table, 4 friendly people are seated with laptops opened, phones on display, and a few big professional cameras strewn about.  They drift in and out of conversation and presenting things on screens to each other.  Over at another work station, a dedicated music laptop plays the music of Lebanese legend Fairuz, while another few people sit in the next room chatting about a project.
We've wandered into an artists' studio where every friday a group of friends gather in what they describe as a weekly ritual of conversation and camaraderie. And despite our presence disrupting the usual flow of conversation, the group is pleased to have us and we are each immediately greeted with explanations and examples of their work.  The youngest among them is 22 years old and she shows me her interactive art installations that focus on surveillance culture.  She clicks through the images and explains how it works and where it is on display now.  "If I had known you were coming I would have brought my marionettes" she later tells me.  Meanwhile one by one they explain their work and their feelings about the past two years.  In the difficult events at Tahrir in 2011, they lost friends, including one of their regular colleagues of the Friday open studio, who was killed by a sniper.  They speak about him and how they lived those days, all of them at the square of course, where they still return to as part of the Friday ritual.  "We will have tea, finish our discussions, and head over to Tahrir later today," we were told several times.
Both the work and the people were extremely inspiring, as this group not only specialized in innovative art, but they also obviously looked after one another.  It was like visiting a family of different generations, dedicated to helping one another succeed in life and art. And lucky us, on this day they welcomed us with open arms and plentiful pastries, pleased to have another chance to get to know visitors and communicate their story to whomever would be interested in listening. (or reading)