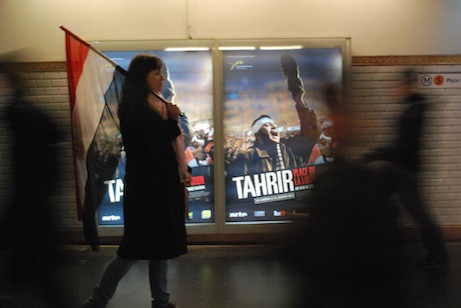 Since the revolution began in 2011, many a foreign journalist has gone to Egypt filled with good intentions and enthusiasm. And while some have done interesting or inspiring work, there are still many in the international media that consistently get half the story or hardly any of it and go home proclaiming that they know what's what.
With our upcoming journey to Tunisia and Egypt, our challenge is to get past those tendencies and see beyond our own natural limitations. To best do that, we turn to our Egyptian friends in-country and from the diaspora, and ask about their experiences and what they most wish journalists would take note of and stay open to while doing their work.
Today on the podcast I speak with a new friend of the program, herself an Egyptian living abroad and living-breathing the revolution everyday even if she isn't on the streets or in the square; Hanna Yousef is my special guest as part of a conversation to learn her beautiful story and ask what advice she would give to a outsider-journalist like myself, heading to her beloved country for the first time, in search of stories. In many ways this is the preparatory conversation that every journalist should have yet we rarely get to hear as its considered unworthy for your ears; too candid and imperfect. exactly the type of conversation that makes me love podcasting.