Brain Gain and Starting Up in Kosovo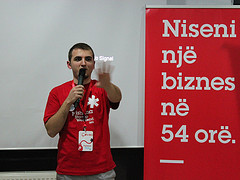 Çelik Nimani is well aware of the difficulties his young country faces.  He is also well aware of the tremendous creativity and potential that can be found here as well as throughout the international Kosovar diaspora.  His goal is to help unleash that potential with a resounding call for everyone to get involved, take initiative, and be the change the nation needs to see.  He's not just a business man, he's an ideas guy who enjoys being inspired just as much as he himself inspires.
In this podcast we get into how to reach people in Kosovo, to motivate them, to wake up those who are in a depression or feeling powerless. We discuss resources and what this nation has to offer the world.  You would think being able to choose your country on a form would be a given, but thats not the case in Kosovo – we discuss this issue.  From education to entrepreneurs, this program takes the series on Kosovo to the next level, to where the mainstream media rarely invests the time and energy, and where you can hear the details of this immense challenge from the people who are living them everyday.
çelik Nimani on twitter
His LinkedIn profile