Language and War in Georgia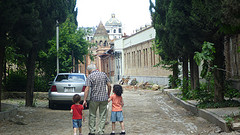 Driving outside of Tbilisi on the way to the ancient city Mtskheta, my hosts and I talk about Georgian language and how it has been effected by decades of Soviet Occupation and migration patterns. We also delve into Russian-Georgian relations today and how war is still very much part of the language and memory of the nation.
You can follow one of the guests on this episode via his twitter account. The other guest will remain anonymous.