ctrp339 Sharing Culture in Japan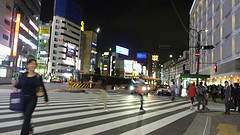 Yuuki Aki is no ordinary Japanese writer. He's been living and writing an issue that many westerners wouldn't believe would be so contreversial in such a modern place: room sharing.
In an unexpected podcast conversation, Aki takes us to post-war Japan where the country adopted a tradition of renting only single rooms or apartments for people unless they were married. As a result the idea of having a roomate, or living together with someone without getting married, is not only unheard of, its considered unacceptable by many landlords.
Then came the television program Friends along with a whole generation of Japanese young professionals who had lived abroad, they wanted to live with roomates and had to find ways to get past cultural restrictions. Aki tells the story of how this movement came to be and what kinds of situations they find themselves in. In between we also learn a whole lot more about Japanese urban culture.
Roomshare Japan (classifieds)
Roomshare Guide (online guide. Japanese)
The Book "Roomshare suru seikatsu"(A Life in Roomsharing)