ctrp316 Coffeeshops, Drug Tourism, and Politics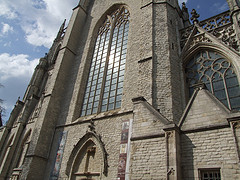 Two Dutch municipalities decided last year that all their coffeeshops must be closed down. While in other cities, like nearby Breda, city governments have no intention of going back to the days of street dealing in back alleys and dark corners.  Selçuk Akinci is a blogging–tweeting digital native, not to mention the chairperson of the Green Party Delegation for the city council of Breda. He has also spoken out and written over the last few years on the topic of coffeeshops and the attempts to shut them down or instate pass-card systems where only card carrying members could make purchases.  When in 2008, neighboring municipalities to Breda decided to close down their coffeeshops in effort to chase away drug tourism and other alleged undesireable elements, Selçuk was a vocal part of the effort to serve the influx of customers by setting up more coffeeshops in strategic locations.
From Breda, to the national level, to the European Court of Justice, Selçuk and I discuss drug policy in the Netherlands and just which way the political and social wind is blowing.