bm299 Radical Politics and Censorship in Turkey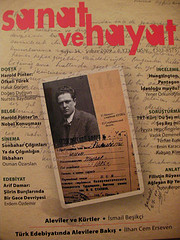 The first edition of sanat vehayat was removed from the news stands by the Turkish government because it contained the word "Kurdistan".? But the political magazine was not discouraged, later re-releasing that edition with the word Kurdistan crossed out with black marker.
During my visit to the Asia side of Istanbul I had a chance to visit the modest headquarters/social club of the radical magazine. A representative took the time to answer my questions and explain why and how they do what they do, and just what the situation is for the publishers of a magazine that is politically on the opposite side of the spectrum from a conservative government that has little concern for press freedom.
Music:
Vinicius Cantuaria -Galope
Yeah Yeah Yeah's – Hysteric