Apparently there are no more tickets left to see David Sedaris speak here in Amsterdam at the end of September.
Also I hear the dress code is corduroy or denim, which sounds fun. However my visit to the American Book Center was not in vein, I discovered yet another wi-fi HotSpot in Amsterdam, the second floor of the ABC, which I can add to the growing list of lovely places to bring your laptop-lover. Also I discovered they sell imported chips deluxe cookies, but at almost 6 Euro per box, I think I'll surpress my cravings.
Michael Musto, the mastermind behind the DAILY MUSTO, has never been among my favorites at the Voice. Too gossipy and showbusinessy for me. But this week he caught my eye, I found his article on the whole McGreevey debacle quite fun.
Speaking of New Jersey folk, my brother's Foggy Recollection has started off in a very funny manner, and hence should become a much loved blog. Much like many of you out there, he definately needs to get into RSS, as my blogger-friend Chris finally has in Iraq.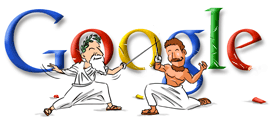 These Google graphics keep getting better! And obviously the blogger community loves these sorts of things, as Torill was saying the other day.
Today's Music: Ani DiFranco & Utah Phillips