ctrp352 Revisting 1996 Kabul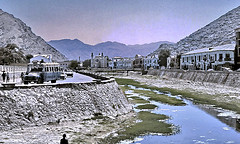 In Sept. 1996 the Taliban had just taken over Kabul and Jeremy Wagstaff was working as a journalist for Reuters in Hong Kong when the unexpected happened. He was told they needed him in Kabul, without much preperation or explanation he eventually found his way there and found his way to the front lines of the war in Afghanistan.
In this podcast, recorded one calm sunny afternoon in Kabul, Jeremy recalls what the city was like in those days, what you could and couldn't do, and what dealing with the Taliban was like for a foreign journalist.
Read Jeremy on the Loose Wire Blog